A Blockchain Job Board & Community:
I've been bouncing a problem and in my head for a few months now – a growing number of ad hoc industry professionals (i.e people in finance, marketing, design, transportation) want to get started with blockchain but don't know where to start.
Need proof?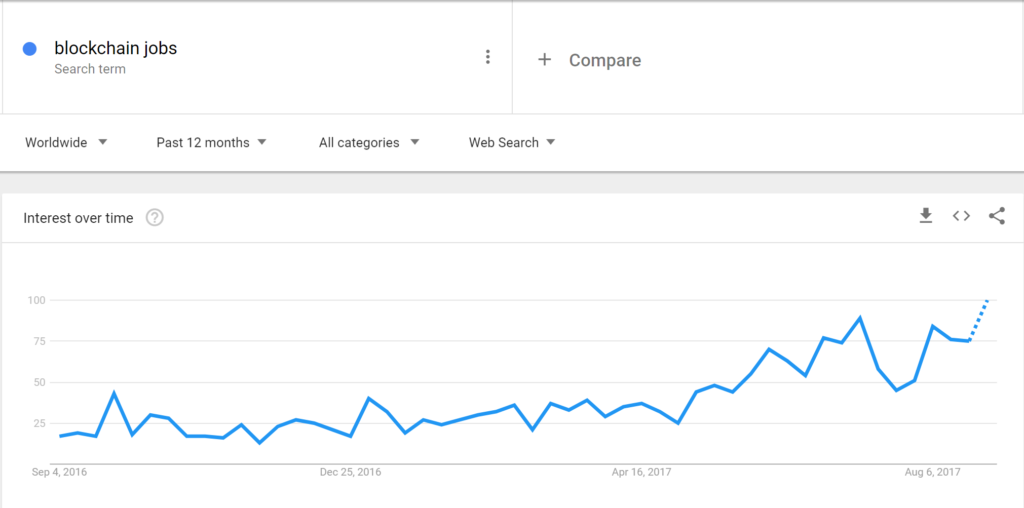 A gap in blockchain talent
The way I see it, today's blockchain ecosystem consists of 3 primary players:
Inventors: Hackers, visionaries and innovators such s Vitalik Buterin. According to recent estimates there are just around ~5,000 true blockchain developers in the world
Investors: People looking and willing to spend resource who want in on the action (and the upside). This includes VC's, miners and ad hoc speculators. Millions of people fit this criteria (anyone with a cryptocurrency wallet or account really), and while they drive industry growth, they only do so in the shape of funding other people's work.
Facilitators: Industry experts who may not code or have the ability to buy into the madness as investors, but they do identify gaps and opportunities that blockchain tech has the ability to solve. Maybe they're insurance brokers who understand how blockchain can cut intermediaries. Maybe they're in supply chain and identify a need for secure transparency regarding sourcing…
The blockchain industry needs more Facilitators, and while a growing number of them are looking to join, most don't what to do to make that happen. On the flip side, before blockchain technology companies can truly disrupt a given industry, they'll need to tap into it's talent pool.
Currently, there's really no central hub for professionals to connect to blockchain projects or developers  – where they can cross-pollinate ideas and bring them to life. 
Think LinkedIn, but more of a community/marketplace connecting professionals to blockchain ideas, projects and companies.
As a Lean advocate I'm all about creating minimum-viable-products (MVP's), so here it is:
Job Block – A Slack channel to connect business experts with blockchain experts.
What next?
I'm well aware that the value of this Slack channel or any future permutations of this idea will be governed by Metcalfe's Law (aka the network effect) – meaning only with a large, engaged community will this truly be helpful. So I'll be pushing this out aggressively in the near future as well as putting together a good amount of resources and links for blockchain job and talent seekers. So:
If you're reading this and this speaks to you, please join!
If you know of existing solutions, ping me on LinkedIn – I'd love to know.
If you see the value and would like to be involved, please share – here's the link:
Hope to see you there!